Sign up for our Newsletter:
October 2017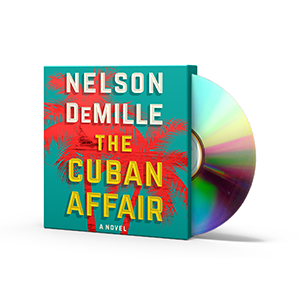 Great news! The Cuban Affair will debut on the October 8 New York Times Best Sellers List at #1! Thanks to all my readers who have put me on the top.
And to show my appreciation, I'm having an October Newsletter Contest giving away 10 Unabridged Audiobook CDs of The Cuban Affair to 10 separate winners. Contest ends October 31.
Monday, October 9 is Columbus Day and I'm marching in the New York City Parade along with over a hundred other Italian-American authors who've been invited by this year's Grand Marshal, Len Riggio, Chairman and Founder of Barnes & Noble bookstores.
There is a lot of recent controversy surrounding Christopher Columbus and there are those who say we should not honor him. To those who say this, I say, "Vaffanculo!" And keep your hands off my holiday. Capice?
Columbus Day is also Thanksgiving Day in Canada, and I wish my Canadian friends and family a happy, healthy and safe celebration.
October 31 is Halloween. The kids love this day, and it's become a very big and commercial holiday since I was a kid when we wore homemade costumes. The politically correct crowd is upset about "cultural appropriation," meaning dressing like an American Indian or a Mexican bandito or something – unless you actually are an American Indian or a Mexican bandito. To those well-meaning, but misguided misfits I say, Dress like the Scarecrow; he had no brain and neither do you.
Anyway, I'm on publicity tour for The Cuban Affair, so this is a short Newsletter. Have a wonderful Columbus Day and Halloween, and a great October.
See you in November.
Best wishes,

---