May 2018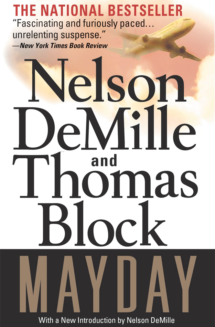 May 1 is May Day, a holiday in much of the world. It is also the name of my book which I co-authored with my childhood friend, Tom Block, retired US Airways captain. This would be a good time to buy a copy of Mayday, which has been called ". . . a novel for the true connoisseur of disaster novels" by the New York Times.
Speaking of the New York Times, a former Times writer, novelist Alex Berenson, wrote a very bad review of The Cuban Affair in the Times. This was the only bad review of my book, so I returned the favor in my April Newsletter, and gave his book a bad review. A lot of my readers were surprised or upset that I would trash a fellow author, which I've never done before, but as I used to say to my teachers in grade school when they were breaking up a fight in the playground, "He started it!"
On that note, let me recommend some good summer reading: First, Runner in Red by my friend Tom Murphy. Tom's wife Barb was a marathon runner who died of lung cancer and the proceeds of all book sales go to the Barb's Beer Foundation. Here's a link to learn more about Tom's mission to promote lung cancer research. Please buy this book – it's a great read for a great cause.
Another friend of mine, Cristina Alger, has written a novel titled The Banker's Wife, which comes out on July 3. I've read the advance copy and loved it. This is an international thriller that will keep you in suspense and truly grab hold of you from the first page until the last. Cristina has also written This Was Not the Plan and The Darlings. Check these books out on Amazon or B&N.com, and pre-order The Banker's Wife now. Or, of course, go to your favorite bookstore.
Let me also recommend Skyjack: A Kidnap-and-Ransom Thriller by K.J. Howe, another friend and fellow member of International Thriller Writers. Ms. Howe's protagonist is Thea Paris, an international kidnap expert who kicks bad guy butt. You'll love this one as I did and learn a lot from her amazing research. Check it out online or get it at your bookstore.
And, last but not least, I highly recommend Big Guns by my pal Steve Israel, former congressman from my neck of the woods on Long Island. Steve quit his day job to write novels and his debut novel, The Global War on Morris, was very well-received. Big Guns is a satire of the gun lobby and it's sure to annoy the pro and anti-gun people equally, and to entertain everyone else. Big Guns was released on April 17. Buy this book and help keep Steve from returning to Congress.
A reminder: The Cuban Affair will come out in trade paperback on June 5. Just in time for Father's Day. Online pre-orders have been overwhelming and my publisher is scrambling to buy more paper and ink to keep up with the printing presses which are rolling 24/7. Don't get left out in the cold. Pre-order now online or at your local bookstore. Thanks.
And do not forget – Sunday, May 13, is Mother's Day. Mom would like breakfast in bed or dinner in a restaurant. And flowers. And a good book. And probably a few Bloody Mary's to get through the day. Don't forget the card. If you get her one of my books, get her an autographed copy, or just sign my name. Sample below.
I got an email from my friend John Corey that began, "Dear Brutus. . ." He went on to say he'd read my last Newsletter and was disappointed to learn that he would not star in my next book. He reminded me that he'd made me famous (forgetting that I made him famous) and he felt betrayed – which I figured out from "Dear Brutus." He said he liked The Cuban Affair (though I saw his snarky review on Amazon), but he felt I was pushing my luck by introducing new lead characters and I should remember who my real friend is. He also offered to come to my office to rearrange my face.
So, I'm wondering how you, my readers, feel. Should my next book be another John Corey? Or should I write the book I announced in my April Newsletter? Shoot me an email and let me know your thoughts. Meanwhile, I'm not going to the office for a while.
Last but not least, Monday, May 28 is Memorial Day, the day we remember those men and women who made the supreme sacrifice in times of war. Take a moment from your three-day weekend to reflect on our fallen heroes. We mourn their loss and celebrate their lives. They were not surrounded by family when they died, but they were in the company of their brothers.
That's it for May. See you in June.
Sincerely,

Sign up for my Newsletter
Enter to Win
Stay tuned for the next contest.
Recent Contest Winners
Congratulations to David J. on winning my Newsletter contest!
Newsletter Archive
Browse the archive of my previous Newsletters.