July 2019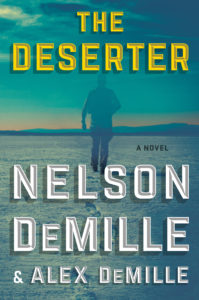 As many of you may know, I lost my wife last September after a long and very brave fight with cancer, so I haven't been writing any Newsletters for about a year. But I didn't want to let the summer pass without reaching out to my readers, many of whom have sent me condolences, for which I thank you.
The first thing I want to share is that I just completed a novel that I co-authored with my son Alex. The title is The Deserter, and it will be published October 22 by Simon & Schuster. So let's kick off this news with a giveaway of a signed advance reading copy. Submit the name of your favorite DeMille book on my Newsletter page and you will be entered to win
The Deserter was inspired by the Bowe Bergdahl case. You may remember that Bergdahl deserted from the Army while stationed in Afghanistan, then was captured by the Taliban and held for a number of years until he was released in exchange for five Taliban commanders that the U.S. had imprisoned. The Deserter has a different storyline, but Bergdahl's desertion and capture gave me the idea for this story.
The Deserter introduces two new characters—Chief Warrant Officer Scott Brodie and his partner Warrant Officer Maggie Taylor who are investigators for the Army's Criminal Investigation Division—the CID. The deserter in the story is a Delta Force Captain named Kyle Mercer who has escaped his Taliban captors and is spotted a year later in Caracas, Venezuela by an old Army buddy. Our heroes, Brodie and Taylor, are tasked with going to Caracas to pick up the trail. Why did Captain Mercer, a decorated war hero, desert? And why is he in Venezuela? All this and more will be revealed in 500 fast-moving pages.
You can check out The Deserter on my website now, and if you push the correct button you can pre-order it now.
Meanwhile, I'll post one or two chapters on my website before the October publication. Hope you enjoy it.
So why did I choose to co-author a book, The Deserter, with my son? And how did that work out? Well, we're still speaking to each other and the publisher is thrilled with the finished product, so it worked out fine. In fact, we're going to continue with Scott Brodie and Maggie Taylor as a series, and Alex is setting their next adventure in Berlin.
To find out more about my new co-author, please visit his website www.alexdemille.com.
My 12-year-old son now wants to co-author a book with me about a superhero who plays computer games all day and saves the world from an alien invasion. I'll think about that.
Meanwhile, my new work in progress is a John Corey book—the eighth in the series. The book, tentatively titled The Maze, returns John to the North Fork of Long Island where he first made his appearance in Plum Island.  In a way, John has come full circle in The Maze which opens where Plum Island did—on the back porch of his uncle's house overlooking Peconic Bay. And, as usual, John is about to get himself into trouble. Publication of The Maze will be—hopefully—fall of 2020.
I'll keep in touch with at least one more Newsletter before The Deserter is published in October. Enjoy the summer and live life to the fullest.
Sincerely,

Sign up for my Newsletter
Enter to Win
Stay tuned for the next contest.
Recent Contest Winners
Congratulations to David J. on winning my Newsletter contest!
Newsletter Archive
Browse the archive of my previous Newsletters.