July 2017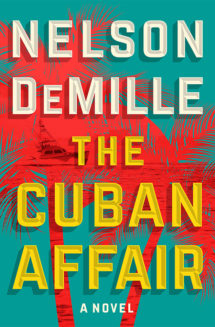 I hope everyone had a great Fourth of July. A lot of my friends and family don't bother to go to a fireworks display; they see the same thing in their heads every day.
Several of these same friends have suggested that I do some book signings in Cuba when The Cuban Affair comes out in September. I think, considering the subject matter of the book and the anti-Castro references, that I'd be arrested on sight if I ever set foot in Cuba again. My friends think this is unlikely, but even if I did get arrested, they say, it would be great publicity for my book. I'm not sure they have my best interests at heart.
Anyway, The Cuban Affair will be published on September 19 (a Tuesday) and now is a good time to pre-order the hardcover, or the large print edition, or the ebook, or the audio version from your favorite online retailer.
The audio, by the way, will be narrated by my good friend, Scott Brick, who has narrated many of my other novels. Scott has a golden voice and he brings all the characters to life. Also, if you play Chapter 6 backwards, you can hear the Beatles singing "Yellow Submarine."
Several people have asked me about the status of my John Corey Sony-TV/ABC-TV series. Well, the pilot didn't get made in May or June, so it doesn't look likely that it will air this fall. I saw the script, which was terrific, but something got off track as it always does in TV Land and Movie Land. Hollywood can make a movie about the D-Day invasion, but if they had to plan the invasion, the Germans would still be in Paris.
My good friend Linda Fairstein, bestselling author of many excellent crime novels, has a fantastic new book coming out on July 25 (a Tuesday), titled Deadfall. I've read it and loved it and so will you.
As you may have read in my recent email blast, which I hope you got, Linda and I were on CBS Sunday Morning, interviewed by Lesley Stahl, along with our pals and bestselling authors Harlan Coben and Susan Isaacs. Hope you saw it, and hope you enjoyed it.
The segment was shot while we were having dinner at Aretsky's Patroon restaurant, one of my favorite New York steak houses. If you watched this, you may have noticed that we all got sillier as the wine flowed freely. By dessert, we had our faces in the cheesecake – but they cut that.
Also, on Sunday, July 30, I will be appearing at the Madison Theatre at Molloy College in Rockville Centre on Long Island with Linda Fairstein. We'll do a talk and Q&A together, and Linda will sign Deadfall. The event is sponsored by the Turn of the Corkscrew Books & Wine, a great independent bookstore in Rockville Centre. If you're in the area, please make a reservation to attend. Support your local bookstore.
In an earlier Newsletter, I said that I'd post the first chapter of The Cuban Affair on my website in July. If you've been looking for it, you'll notice it isn't there. Why? Because there are still some editing and formatting issues to be worked out. But look for Chapter One in August, then Chapter Two in early September before publication date.
Early reviews of The Cuban Affair have been excellent in the trade publications, and Publishers Weekly gave the book a boxed and starred review, meaning they found it exceptional. They are smart people at Publishers Weekly, with refined tastes in literature.
Another book I'd like to recommend is Dead Man's Bridge by my good friend Robert Mrazek. Dead Man's Bridge will be published August 8 (a Tuesday) and you can check it out now on Amazon or Barnes & Noble. Bob also has a book coming out on September 15, titled And the Sparrow Fell, a coming-of-age story set against the background of the Vietnam War. I'm reading it and loving it. Robert Mrazek is a former Congressman from Long Island and an excellent writer. Check out all his books with your online bookseller or your local bookstore.
And finally, don't forget MatchUp, an anthology created by the International Thriller Writers and published by Simon & Schuster. It received a 5 out of 5 starred featured review by Bookreporter, click here to read it.
This July Newsletter is a bit late because I was in Scotland the last week of June, then came the Fourth of July weekend. What was I doing in Scotland? Research. Is my next book set in Scotland? No. I was researching Scotch whisky. Did I learn anything? Yes. Stop at six.
So, that's it for July. Hope you're enjoying the summer so far and that you've got some good beach reading. Or, if you live in the mountains, some good cave reading.
Drop me a line through my website. I enjoy hearing from my readers.
Sincerely,

Sign up for my Newsletter
Enter to Win
Stay tuned for the next contest.
Recent Contest Winners
Congratulations to David J. on winning my Newsletter contest!
Newsletter Archive
Browse the archive of my previous Newsletters.