December 2022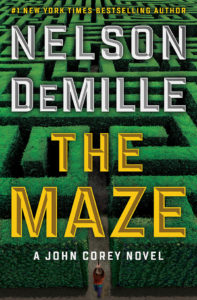 I hope everyone had a wonderful Thanksgiving. I had a houseful of family and friends, many of whom were invited, and most of whom stayed for the weekend. The thing I was most thankful for was the caterer.
My latest novel, The Maze, was published on October 11 and thanks to you it debuted at #2 on the NY Times combined BestSellers list. This was a tough list to crack because a lot of "big" books, including The Maze, had been held back from the Spring list because of Covid concerns, having to do with possible supply chain issues, author appearances in bookstores, and other issues that were unknown when these decisions were made last year. The result was that a large number of what were to be Spring 2022 books actually appeared on the Fall list. This was good for readers who had a lot to choose from this Fall, but not good for authors who found themselves in a crowded field of good books. Having said all that, The Maze sold well and continues to sell. Again, thanks to you.
And while we're on the subject, if you haven't bought The Maze, or if you want more copies to give as Christmas or Hanukkah gifts—or if your dog ate your copy—please click here.
If you'd like to read (for free) the first chapter of The Maze before you decide, click here.
Reviews of The Maze were mostly good, though a few reviewers found that the character of John Corey was a bit hard to take. Corey fans know that John can be obnoxious, profane, sometimes sexist, monumentally egotistical and arrogant, and obsessed with the appendage below his belt. This is why we love him. Though it's also why some reviewers don't. But I don't write for the book reviewers; I write for my readers—you, who are as crazy as John Corey.
Author book tours are not common these days, but I did do an abbreviated tour for The Maze, and did some in-person book signings in Dallas, Houston, and Austin, and also The Villages in Florida, Vero Beach, and Miami. Plus, I did a lot of radio, TV, and print interviews. Wherever I went, sales of The Maze went down. Just kidding.
Like most authors, I'm ambivalent about the book tour, which can be arduous and exhausting. The tour can help sell the book, but even if it doesn't, you get to meet your readers and book sellers. And sometimes an old girlfriend. Or a new one. Hey, it's a tough job, but someone has to do it.
In my last Newsletter, which you can see here, I mentioned some movie and TV interest for The Maze and past books. Nothing new to report, but I'm hopeful that Sony TV will move forward with the John Corey project. It would help if John wasn't insisting on playing himself, or asking to pick the female leads, and demanding script approval and at least two sex scenes per episode. He also wants me in a cameo appearance which seems reasonable. We will see.
People often ask me to suggest a book to give as a holiday gift. Well, aside from my own books, I would strongly recommend a novel from my good pal Lisa Scottoline, titled Loyalty. This is a different kind of book for Lisa, an historical novel, and it is set in Sicily in the 1800s. I've read an advance copy and I loved it. And so will you and so will anyone you're giving it to. It will be published on March 28 next year, but you can pre-order it now from an online book retailer, or at your bookstore.
Another book that I strongly recommend is Words and Music: Confessions of an Optimist, by Stephen Rubin. Steve is also an old pal of mine, and Words and Music is his memoir, a very honest and forthright look at his legendary career in the publishing business and his early years in the music business. You don't have to be in either business to enjoy Steve's recollections of his dealings with CEOs, celebrities, and a cast of crazy and cranky characters. Full disclosure: I am mentioned in the book as is my late wife Sandy. We got off easy. Words and Music will be released January 24. I don't know when Steve will be released. You can pre-order now.
Looking for stocking stuffers? Or a cheap gift for someone who gives you cheap gifts? I suggest a paperback copy of any of my books. Click here to see a list of all my novels. If you buy Cathedral, please know that all royalties from that book go to the St. Patrick's Cathedral (NYC) Restoration Fund. Cardinal Dolan assures me that my act of charity will shorten my time in Purgatory, and get me a fair hearing at the Pearly Gates. That's the best he can do. If he was Sicilian, like the characters in Lisa Scottoline's book, I could work out a better deal.
But seriously.
It is the Christmas season, and you've heard and read everything about the true meaning of Christmas, so I won't add to that. But as always, I want to thank the men and women in our armed forces, and also the men and women who are firefighters, police, first responders and health care professionals who are on duty when we are with our families. These last few years have been a challenge to all of us and to our country. But think how scary it would have been if there was no one "out there" when we needed them.
I wish you all a very merry and peaceful Christmas and Hanukkah season, and a happy, healthy, prosperous and productive New Year!
Sincerely,

Sign up for my Newsletter
Enter to Win
Stay tuned for the next contest.
Recent Contest Winners
Congratulations to David J. on winning my Newsletter contest!
Newsletter Archive
Browse the archive of my previous Newsletters.