September 2022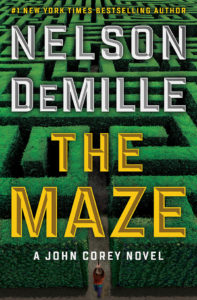 It's been awhile since I've sent out a Newsletter, and I've actually gotten e-mails through my website from people saying they look forward to my Newsletters more than my books. I'm sure they're just kidding.
Anyway, I hope everyone had a wonderful summer. With most of the Covid restrictions lifted, things seem to be getting back to normal. School starts soon, or has already started, and if you're like me, you are overjoyed and celebrating.
As I announced in my last Newsletter, my new John Corey book, titled, The Maze, will be published on October 11. But as a sneak peak, I now have Chapter One up on my website which you can read for free. Download it today. If you like it, you can pre-order the book online or from your local bookstore. The Maze will be available as a hardcover or an e-book, or in audio disc or download. Scott Brick, who's narrated all the John Corey books, will again be the narrator and he's done a great job as always.
The Maze is sort of a sequel to Plum Island, which was the first John Corey book in the series. Early reviews have been terrific, so go ahead and pre-order now. Also, you might want to read or re-read Plum Island before The Maze.
With the imminent publication of The Maze, there is renewed interest in the John Corey series for TV, and my agents have had promising talks with people at the various cable and broadcast networks. John Corey, as you know, is politically incorrect, so some of the networks are hesitant to promise an accurate representation of John Corey. They won't say that, of course, but we know that. And so does John, who thinks that TV and movie execs are a bunch of *CENSORED!*
You may recall from past Newsletters that Paramount Motion Pictures optioned the movie rights to The Cuban Affair. The screenplay that was written was . . . let's say not of the same quality as the book from which it was adapted. The good news is that Paramount wants to try again with a new or substantially rewritten screenplay. I look forward to reading the new effort—with a stiff Scotch and soda in hand.
There is other movie and TV interest in my books as there always is when a new book is about to be published. I will keep everyone informed of the progress on this.
And now for my next book, titled The Explorers Club: This is a stand-alone, meaning it's not part of an existing series. It's a classic action/adventure story, set in New York City, and also the Mideast. I've created a new leading character, Kip Truitt, who is a bit like Harrison Ford in Raiders, with a touch of James Bond and maybe a little bit of Nelson DeMille. I've just started writing this book, so I don't know when it will be published. Not next week.
My son Alex, who co-authored The Deserter with me, is putting the finishing touches on our next co-authored book, titled Blood Lines, featuring Scott Brodie and Maggie Taylor, Army CID agents who we first met in The Deserter. If you liked The Deserter, you'll love Blood Lines. Publication is scheduled for sometime next year. I'll keep you posted. Alex's website is here. Shoot Alex an e-mail; he loves to hear from his readers—especially when he's racing a deadline to complete a novel.
As for The Maze, I'm doing a publicity tour, so please check out my website Events page in a few weeks for my appearances. The book tour is my favorite part of being an author—canceled and delayed flights, security lines, rough weather, airport hotels, long hours and weeks away from my La-Z-Boy recliner. I love it. But seriously, I love meeting my fans. And that makes it all worthwhile.
That's it for now. I hope to get another Newsletter out, or a few e-mail blasts before The Maze is published on October 11.
Hope to see you at one of my talks and signings.
Sincerely,

Sign up for my Newsletter
Enter to Win
Stay tuned for the next contest.
Recent Contest Winners
Congratulations to David J. on winning my Newsletter contest!
Newsletter Archive
Browse the archive of my previous Newsletters.